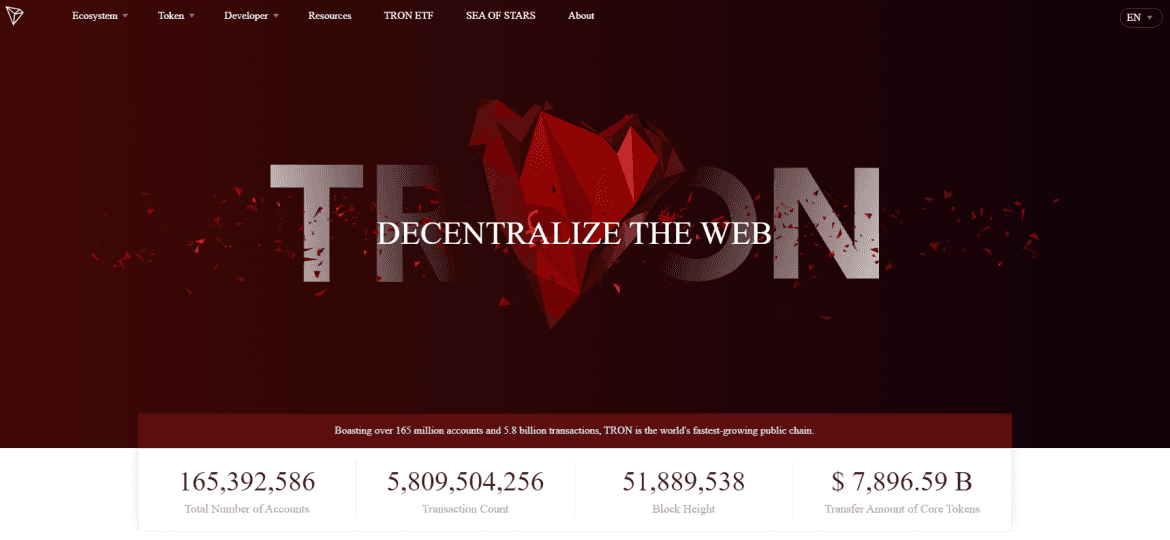 Top Tron APIs​
In the dynamic world of dApps, the Tron blockchain has emerged as a prominent player, captivating the attention of developers worldwide.
Igniting the flames of innovation, Tron unleashes a resounding $10 million incentive fund, propelling Terra developers into a realm of boundless possibilities within the TRON ecosystem. Meanwhile, their colossal $100 million AI development fund electrifies the blockchain sphere, seamlessly fusing assets and trailblazing AI integration, forging a future that defies imagination.
 In this exclusive article, we embark on an investigative journey, meticulously examining the crème de la crème of Tron API providers renowned for their exceptional features, developer-friendly interfaces, and comprehensive support. 
Discover the best blockchain API providers for Tron, offering seamless access, heightened reliability, and optimized solutions. Leave behind node management complexities and embrace their trailblazing services.
Stay tuned for a transformative dive into the future of Tron development!
 Bitquery
Introducing Bitquery, the ultimate catalyst for unlocking the boundless potential of your Tron blockchain endeavours.  
You can harness the true power of Tron with Bitquery's groundbreaking Tron DEX APIs, offering real-time access to the pulse of Kyber, Uniswap, PancakeSwap, etc. 
With Bitquery Tron API, developers can access extensive liquidity pool data from Tron DEXs and analyze key metrics like total value locked (TVL) and LP token minting to evaluate liquidity pool health and uncover potential arbitrage opportunities. Thus, you can gain valuable insights for building robust decentralised applications (dApps) on the Tron blockchain.
Moreover, you can access comprehensive smart contract data, including ABI and bytecode, for seamless interaction and innovation on the Tron network.
Extensive Coverage Across Transaction, Balances and Trades 
Take, for instance, this query that retrieves data including fee calculations, transfer timestamps, transaction counts, unique sender and receiver statistics, currency analysis, and balance information.
Seamlessly integrate this cutting-edge technology into your projects and tap into the limitless possibilities Bitquery's Tron API offers.
Advanced Analytics
Dive into a comprehensive exploration of TRON Mainnet(addresses, blocks, transactions, wallet status, gas fee, time, balance, transfers, and miners on the blockchain), revealing intricate transaction details and invaluable insights through advanced analytics. Bitquery's Coinpath API endpoints enable tracking money, creating flow graphs, and aggregating transfers. It helps identify origin/destination, transaction amounts, and flow paths.
Bitquery Tron API,  the trusted blockchain data powerhouse since 2018, and also supporting more than 40 blockchains, empowers global businesses.
Reshaping Business Operations
Our game-changing points system is reshaping the landscape of business operations, driving significant cost savings that have already captivated countless organizations. This is a pivotal moment for you to capitalize on this transformative solution.
Take the strategic step of signing up for a free developer account now to experience the remarkable benefits that await.
 NowNodes
NOWNodes, one of the blockchain integration API providers, offers a range of blockchain services tailored for developers working with the TRON blockchain. They offer access to 65+ RPC nodes, enabling seamless integration for Web3 development needs.
Developers can rely on their infrastructure and dependable API connections to build and deploy DApps on TRON. 
With support for over 50 blockchain full nodes and explorers via API key, NOWNodes ensures a reliable and scalable solution for TRON blockchain development. Their services provide a streamlined experience for developers seeking to leverage the potential of TRON blockchain.
CryptoNodes
CryptoNodes.io, known for its Blockchain API development services, also offers an array of services tailored specifically for the Tron blockchain. Their expertise lies in providing Tron nodes, which allow developers to interact with the Tron blockchain using an API. 
Offering support for TRC-20 and TRC-721 tokens, CryptoNodes.io ensures compatibility with a wide range of projects.
With their streamlined platform and 20 REST API endpoints, developers can make requests and harness the power of the Tron blockchain. CryptoNodes.io is a solution for developers looking to integrate Tron into their applications and projects.
 Zeeve
Zeeve, one of the Blockchain API providers for developers, specializes in providing services for managing TRON nodes. Their offerings include TRON-specific blockchain consulting, development, and deployment solutions.
With Zeeve's Elastic APIs tailored for the TRON blockchain, users can access features like reading block/transaction data, querying chain information, interacting with smart contracts, and writing data on-chain. 
Zeeve ensures management through authenticated RPC endpoints, an intuitive dashboard, and insightful analytics. Developers can monitor their TRON nodes using Zeeve's API services, device data, and activity logs. Trust Zeeve for reliable and secure TRON blockchain integration through their API-driven services.
 GetBlock
GetBlock, a blockchain node provider, offers developers instant API access to Tron's full nodes. With their robust and secure infrastructure, developers can build and deploy DApps on the Tron blockchain. GetBlock supports various major blockchains, including Ethereum, Polygon, BNB Chain, and Solana, catering to Play-to-Earn, GameFi, and NFT segments.
Through their dashboard and JSON-RPC, REST, and WebSocket APIs, users gain convenient connectivity to over 50 blockchains.
WatchData
WatchData offers services for developers on the TRON blockchain. Their Tron API documentation provides tools that allow developers to generate TRON accounts, send TRX, TRC10, and TRC20 assets, and create custom tokens. 
With a user-friendly design, the Tron API integrates into development workflows. The API supports common TRON methods, providing a secure infrastructure for DApp development. 
 OriginStamp
Tron is using the blockchain-based timestamping service provided by OriginStamp. OriginStamp uses Tron's infrastructure, employing advanced hashing algorithms, Merkle Trees, and secure private keys to generate tamper-proof timestamps.
With Zapier integrations, users gain access to secure blockchain timestamping across 5,000+ applications. You can experience the paradigm shift in decentralized trusted timestamping as OriginStamp leaves an immutable imprint on the Tron blockchain.
TronGrid
TronGrid API provides developers with essential tools for decentralized application development on the Tron network. With a hosted API, load-balanced full nodes, and developer tools, TronGrid offers access to the Tron network.
TronGridJS, compatible with Node.js v6+ and popular frontend frameworks, facilitates retrieving blockchain data. Explore the Tron Developer Hub for additional resources. 
CryptoCurrency API
Tron API serves as the go-to resource for developers looking to tap into the power of the Tron blockchain. It provides access to a range of commonly used Tron methods, such as retrieving balances, creating new addresses, initiating track requests, sending coins, generating Tron accounts, and handling TRC10 and TRC20 tokens.
Post written by author Hamid Akhtar and edited by Divyasshree
Subscribe to
our newsletter
Subscribe and never miss any updates related to our APIs, new developments & latest news etc. Our newsletter is sent once a week on Monday.