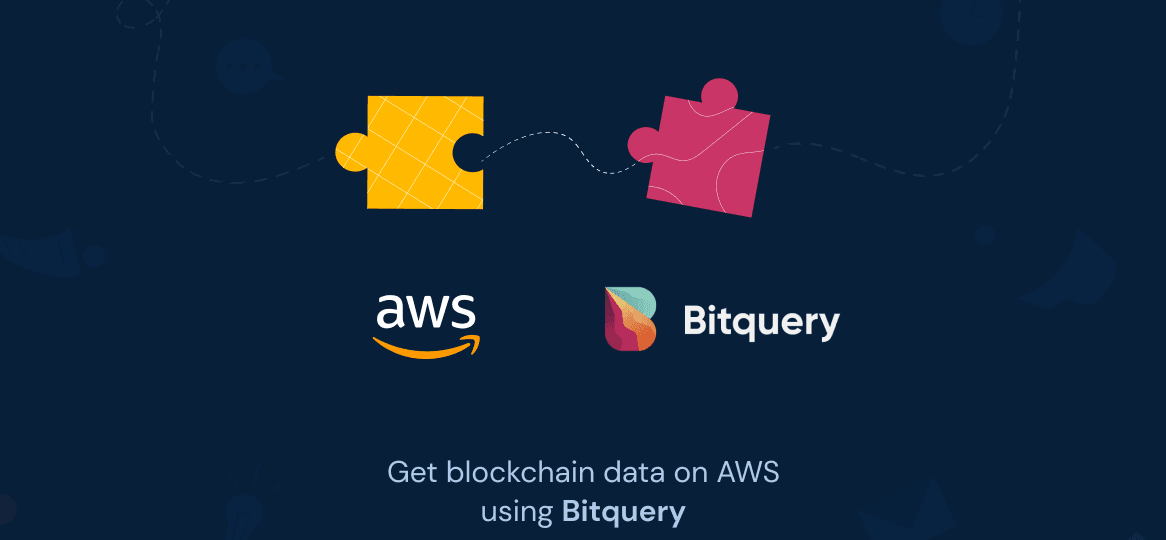 Bitquery.io Partners with AWS to Offer Blockchain Data through AWS Data Exchange Marketplace​
Bitquery.io, the leading provider of blockchain data is absolutely thrilled to announce its partnership with Amazon Web Services (AWS) to offer its blockchain data products through the AWS Data Exchange Marketplace.
By teaming up with AWS, Bitquery brings its extensive blockchain data product to the cloud.
This is great news for businesses that want to use data from the blockchain to make smarter decisions. Now, with the AWS Data Exchange Marketplace, accessing the data has become easy for them. It's like a one-stop shop for all your blockchain data needs, and it's all in the cloud!
Bitquery.io's suite of blockchain data products includes a range of solutions for accessing indexed blockchain data. There is something for everyone; investors, developers, and researchers. These solutions can be used for various applications, including compliance, taxation, crypto wallets, portfolio, trading terminals, etc.
Bitquery.io CEO, Dean Karakitsos, expressed his sheer excitement about the company's partnership with AWS. 
"We are elated to partner with AWS and bring our cutting-edge blockchain data products to the AWS Data Exchange Marketplace," said Karakitsos. "This partnership gives us the chance to reach a broader audience. With our products businesses leverage blockchain data to build cool products. It's a game-changer!"
AWS customers can now take advantage of Bitquery.io's blockchain data products by subscribing to them through the AWS Data Exchange Marketplace. Once subscribed, they can access the data through AWS S3 files. This integration will allow businesses to seamlessly incorporate blockchain data into their existing workflows and systems.
About Bitquery.io:
Bitquery.io is a blockchain data company that provides tools and solutions for accessing, analyzing, and visualizing blockchain data. The company's mission is to democratize blockchain data and give businesses the insights they need to make informed decisions. For more information, visit www.bitquery.io .
About AWS Data Exchange:
AWS Data Exchange is a cloud-based service that makes it easy for millions of AWS customers to securely find, subscribe to, and use third-party data in the cloud. With AWS Data Exchange, customers can easily discover and use data products from various data providers, including category-leading brands and start-ups, in one central location. For more information, visit https://aws.amazon.com/data-exchange/ .
Subscribe to
our newsletter
Subscribe and never miss any updates related to our APIs, new developments & latest news etc. Our newsletter is sent once a week on Monday.