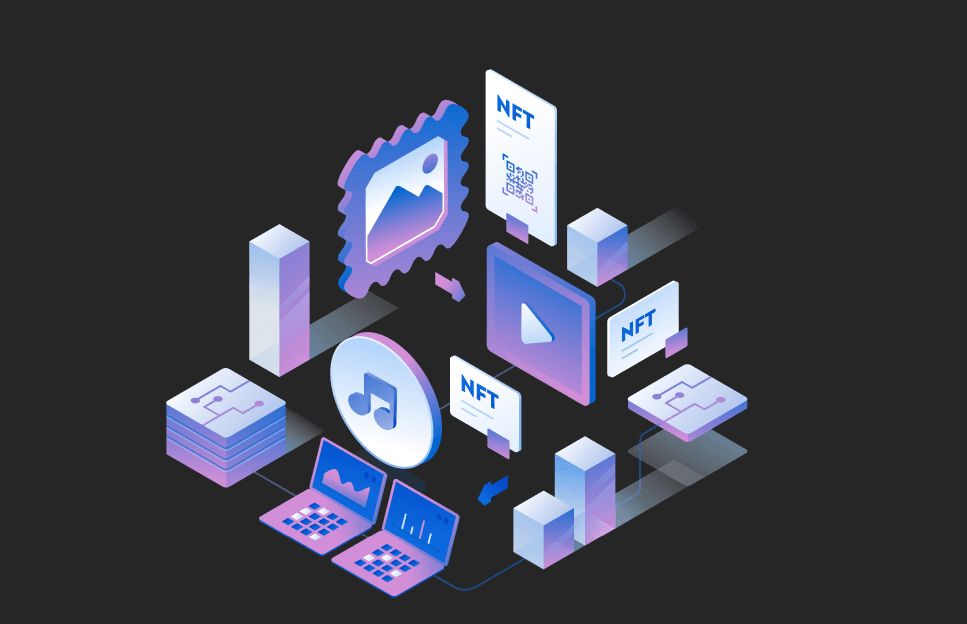 Best NFT Market Trackers
Best NFT Market Trackers
What are NFTs?
Non-Fungible Tokens (NFTs) are digital collectibles that possess a distinct and immutable digital signature, which serves to authenticate and establish ownership of each individual token.
This uniqueness and proof of ownership have made NFTs popular, especially in the digital art world. They have also opened up new possibilities for digital ownership and monetization, leading to a booming NFT market with significant investments.
Why Use NFT Market Trackers?
Tracking the NFT market is essential for several reasons:
Trend Spotting: Stay updated with the latest NFT trends to create appealing content and make smart investments. This involves keeping an eye on the NFT Market Metrics to understand the current market scenario.

Risk and Value Control: Navigate the volatile NFT market and understand value influencers for better pricing and investment decisions. This includes monitoring the NFT Floor Price to ensure you're making profitable decisions.

Demand Check: Understand what's hot and what's not. Tailor your offerings to meet market demand and stay competitive.

Future Mapping: Spot long-term market trends and shifts to plan and strategize effectively for the future. This involves keeping track of the NFT Project Rankings to understand which projects are gaining traction.
Best NFT Market Trackers for Comprehensive Analysis
Bitquery
Bitquery's NFT APIs and explorers are a comprehensive solution for NFT market tracking.
You can get realtime data on NFTs through the no-code explorer, or APIs. What's more, you can download the data from AWS Marketplace.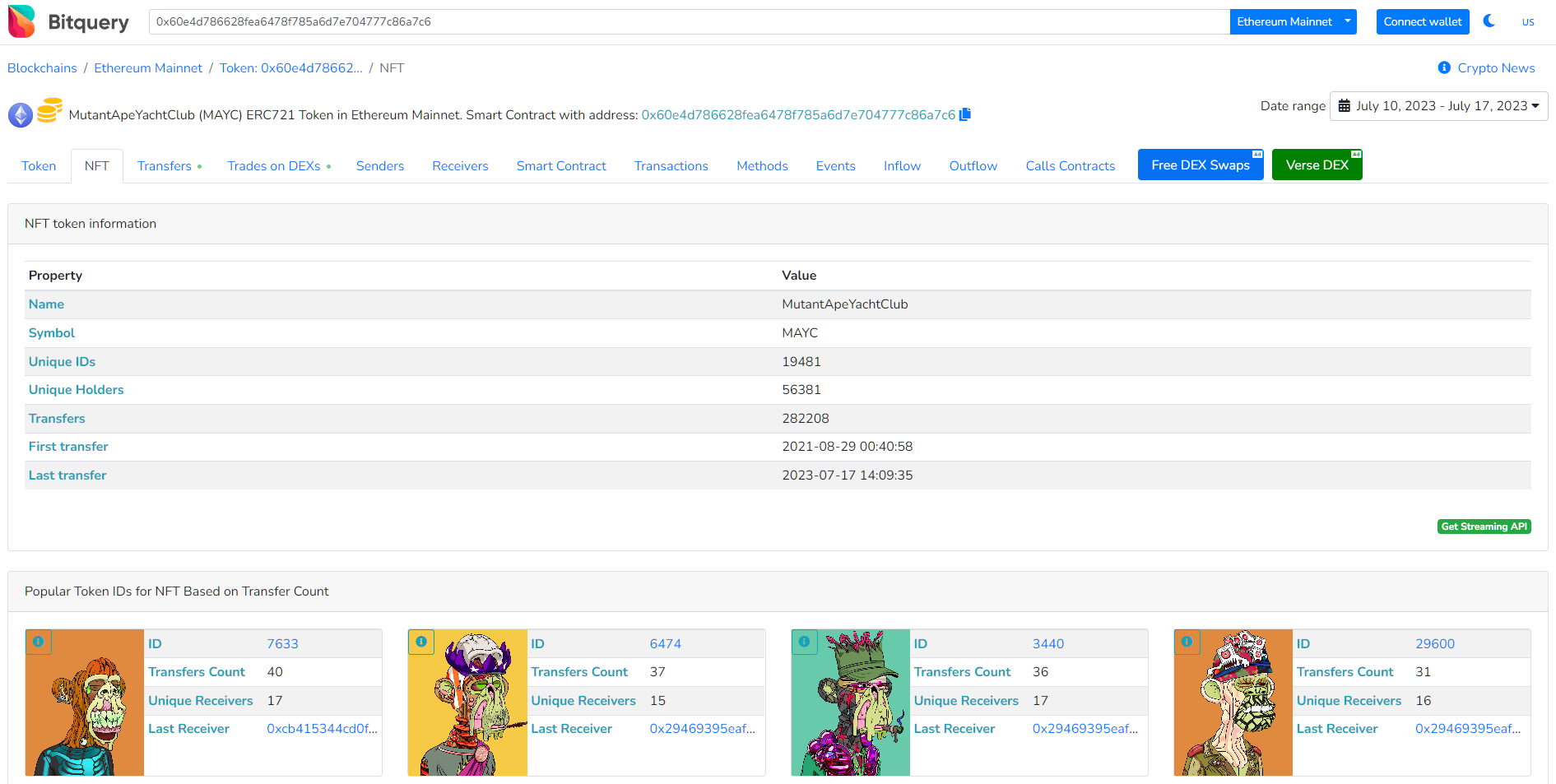 Source: https://explorer.bitquery.io/ethereum/token/0x60e4d786628fea6478f785a6d7e704777c86a7c6/nft_smart_contract
Identifying Top Holders
With Bitquery's APIs, you can identify the top holders of any NFT. This information is crucial for understanding the current market trends.
Tracking NFT Trades
You can leverage the Trades API to obtain an overview of different marketplaces including Opensea and Blur. By using this API, you can track various metrics such as the number of NFT traders, popular NFTs, average prices, and more.
Ownership API
You can make use of Bitquery's Ownership API to validate the provenance of each NFT, ensuring its authenticity. Additionally, with the Calls API, you can access data on both state-changing and view calls, promoting transparency throughout the process.

Market Stats
You can enhance your market strategy by using Bitquery's APIs. These APIs provide valuable insights into various aspects, such as the total circulating supply, the total NFTs count, and more. By leveraging these insights, you can make more informed decisions and elevate your market strategy effectively.
Events, Token Information and Metadata
Bitquery's APIs provide a robust toolkit for achieving mastery in the NFT market. With Bitquery, you can track the latest borrow, lending, identify the top holders of any NFT, get detailed NFT token information, monitor NFT trades, and understand the total NFTs count. These kinds of technical features enable you to navigate and excel in the dynamic NFT market.

APIs for NFT Investors
Bitquery's APIs are a valuable tool for NFT investors. They provide insights into address holding NFTs, helping investors to understand the distribution of NFTs and make informed investment decisions.
Tools for NFT Creators
For NFT creators, Bitquery's APIs provide insights into the latest trades of NFT tokens. This information can help creators understand the market demand for their NFTs and price them appropriately.
Bitquery: A Tool for NFT Market Analysis
Bitquery's APIs provide comprehensive data for NFT market analysis. From historical prices of NFT tokens to NFT token information, Bitquery provides all the data you need for a thorough market analysis.
We operate on a point system and charge only for what you use. Get started with a free developer plan to build your own NFT Market Trackers.
OpenSea
OpenSea, the prominent NFT marketplace, offers an NFT Market Tracker equipped with tracking tools.

This platform allows users to actively monitor sales, collections, and market trends related to NFTs.

By providing real-time data on transactions, pricing, and popular NFT projects, OpenSea's NFT Market Tracker serves as a resource for analysis and insights into the dynamic NFT market.
Rarible
Rarible, a notable NFT marketplace, offers its own NFT Market Tracker equipped with tracking capabilities.

Users can monitor sales, collections, and market trends related to NFTs in real-time.

With detailed transaction data, pricing information, and insights into popular NFT projects, Rarible's NFT Market Tracker provides a resource for analysis of the dynamic NFT market.
Nansen
Nansen, an analytics platform, offers a NFT Market Tracker with tracking capabilities.

It provides an overview of NFT sales volumes, allowing users to track the buying and selling activities within the market.

Users can also explore the market trends and identify popular NFT projects, gaining insights into the preferences of collectors and investors.
CryptoSlam
One of the notable features of CryptoSlam is their NFT market tracking capabilities.

Users can leverage CryptoSlam's platform to gain real-time data and analytics on NFT sales volumes, transaction history, and project rankings.

By tracking these metrics, users can identify popular NFT projects, monitor their performance, and make informed decisions based on market trends.
DappRadar
DappRadar offers profiles and analytics for individual NFT projects, allowing users to explore key metrics such as trading volume, average prices, and active wallets.

This provides an overview of the project's performance among collectors and investors.
NonFungible dot com
NonFungible provides detailed profiles for individual NFT projects, allowing users to explore key metrics such as trading volume, average prices, and historical data.

In addition, NonFungible dot com offers rankings and categorizations of NFT projects, making it easier for users to discover trending NFT collections.
Rarity.tools
With Rarity.tools, users can access comprehensive data and analytics related to NFT projects and their traits.

The platform allows users to explore rarity scores, traits distributions, and statistical analysis of different NFT collections.

This information provides valuable insights into the scarcity and desirability of specific traits within the NFT ecosystem, thereby helping users understand the NFT Price Floor.
NFTBank
NFTBank provides insights into market trends, including daily updates on top collections, helping users stay abreast of the developments in the NFT space.

The platform also provides a portfolio management tool to manage their NFT assets across different blockchains. This aids in effective NFT Portfolio Tracking.
LunarCRUSH
LunarCRUSH provides real-time market metrics for NFTs. This includes data like trading volume, price changes, and more.

LunarCRUSH uses social media analysis and allows users to manage their NFT portfolio.

This platform helps users to stay updated with the NFT Sales History and make informed decisions.
These top NFT market trackers empower users to stay informed, make data-driven decisions, and navigate the exciting and ever-changing world of NFTs.
How to choose the best NFT market tracker for you
Figure out your requirements: Determine what kind of data and features you need from an NFT market tracker. Do you want real-time updates, detailed analytics, or a dev-friendly way to get data? Understanding your requirements will help you narrow down your options.

Do your research: Explore popular NFT market trackers like Bitquery, OpenSea, Rarible, Nansen, and others. Look into their features, reputation, and user reviews to get a sense of their capabilities and reliability. This will help you understand the NFT Market Metrics better.

Accuracy matters: When selecting a tracker, prioritize accuracy and reliability. Bitquery excels in delivering real-time and precise data, making it a trusted option for monitoring the NFT market. Stay informed and make informed decisions with confidence. Seek out trackers with a proven track record of providing trustworthy information.

Depth of information: To ensure the tracker meets your future needs, ask yourself, "What if you need to extend your needs in the future? Does it provide a variety of data?" Evaluate the depth of information offered by the tracker and consider if it offers a diverse range of data that can accommodate your evolving requirements.

Consider user experience: A user-friendly interface can make a big difference in your tracking experience. Look for trackers that are intuitive and easy to navigate, regardless of your technical expertise.

Evaluate analytical capabilities: Assess the trackers' analytical tools and features. Do they offer trend analysis, transaction insights, or portfolio tracking? These features can provide valuable market insights and help you make data-driven decisions. This includes understanding NFT Sales History and other important trends.
Conclusion
In conclusion, selecting the best NFT market tracker is a critical decision that can greatly impact your success in the dynamic world of NFTs. By considering your specific needs, exploring reputable platforms like Bitquery, OpenSea, Rarible, and Nansen, and prioritizing features such as real-time updates, advanced analytics, and user-friendly interfaces, you can make an informed choice.
FAQ
What is a NFT marketplace?
NFT marketplaces are platforms where users can buy, sell, and trade unique digital assets represented as non-fungible tokens (NFTs).
How do NFT marketplaces work?
NFT marketplaces function by utilizing blockchain technology to facilitate secure transactions and verify the authenticity and ownership of NFTs.
How can you make money with NFTs?
NFTs generate income through sales on NFT marketplaces. Artists and creators earn money by selling their NFT creations, while collectors can profit from buying and selling valuable NFTs in the marketplace.
Blog written by guest author Hamid Akhtar, edited by Divyasshree
Subscribe to
our newsletter
Subscribe and never miss any updates related to our APIs, new developments & latest news etc. Our newsletter is sent once a week on Monday.