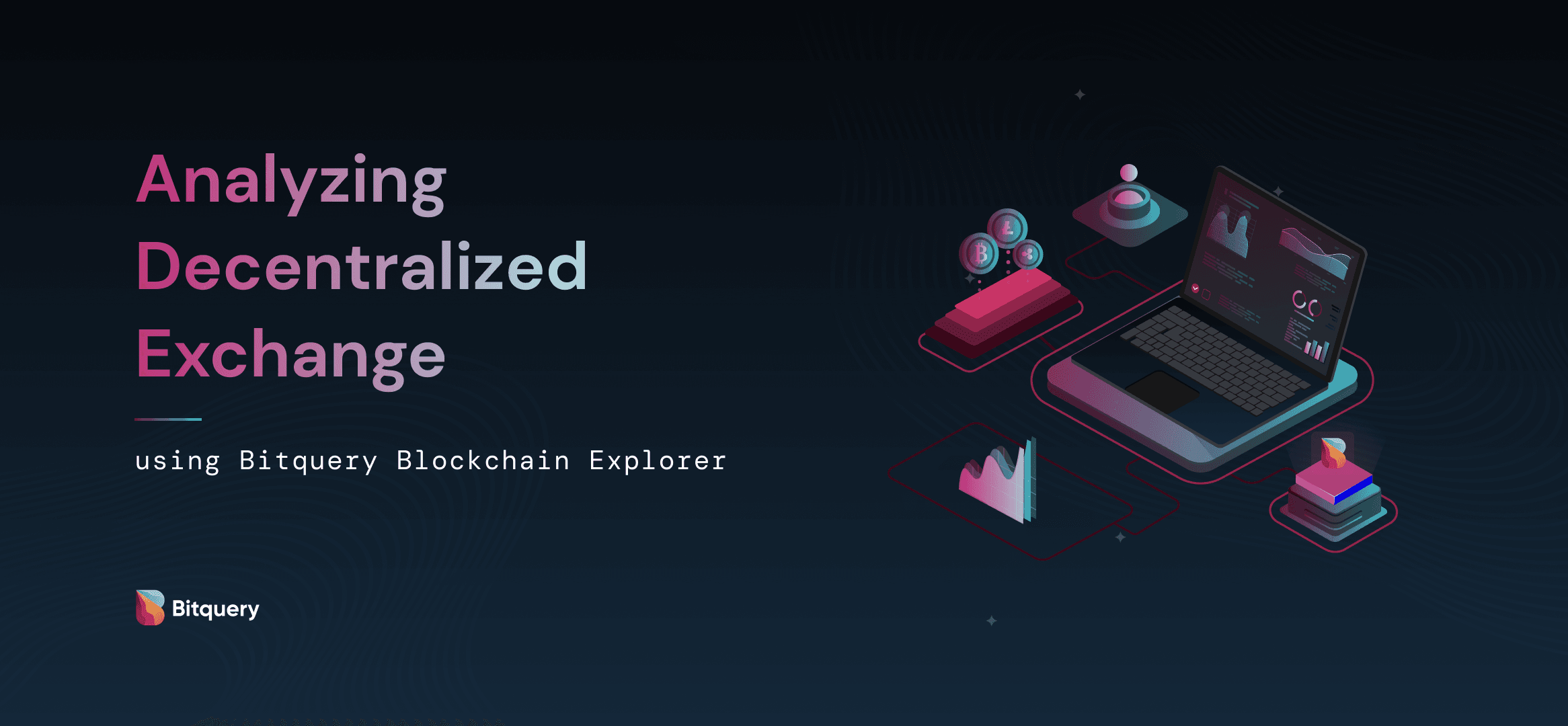 Analyzing Decentralized Exchange using Bitquery Blockchain Explorer
In this article, we will show how to analyze Etheruem DEXs using our blockchain explorer.
Note: You can get all the data metrics mentioned below using our blockchain GraphQL APIs. Besides, we also provide DEX trade data for all the DEX protocols we support.
DEX market share based Trade counts
Decentralized Exchange (DEX) market saw more than 10x growth in 2020. DEX trades grew from 1 million/month at the starting of the year to 10 million trades/month in the 4rth quarter of 2020.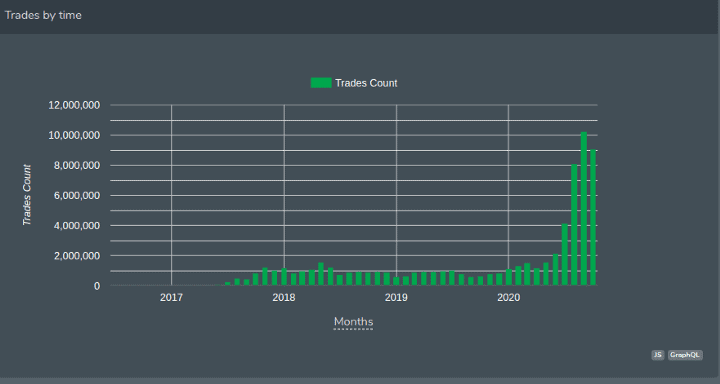 Uniswap protocol alone led this growth and grew ~500k trades/month at the starting of the year to 9.2 million trades in the month of September alone.
Currently, Uniswap has 90% of the DEX market share.

Top DEX protocols
In the first 10 months, Uniswap (V1 and V2) executed more than 31 million trades. Balancer, which is at the 2nd position, executed less than10% of Uniswap's total trades.
However, if we look for a trader's trades count, On Uniswap, a trader executed 65 trades on average. However, when compared to others, on IDEX, every trader executed 49 trades on average and for Balancer 821 trades. A high trade count/trader shows a few wealthy traders drive balancer's trading volume.

Unique Traders on DEX
Total DEX trading Volume surpassed more than $25 billion in September 2020. However, the unique trader's count was only ~225k. Therefore, the average trading volume/trader is ~111K for DEXs.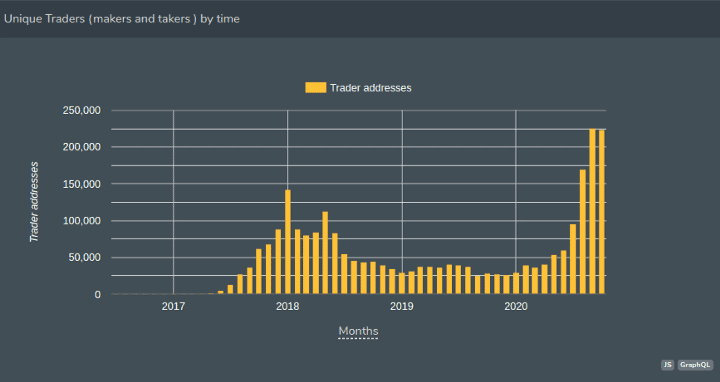 Currencies Traded on DEXs
DEXs are always popular for long-tail crypto tokens, which are not listed by centralized exchanges. As Trading volume grew, numbers of new currencies added to DEXs.
In October 2020, the total number of currencies traded on DEXs surpassed 6000.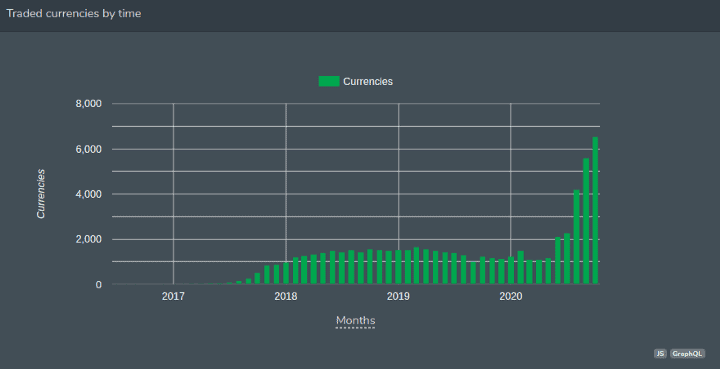 In terms of specific currencies, other than WETH, stablecoins saw significant growth in DEXs. 
USDC trading volume surpassed more than 17 billion (USDC), and Tether also crossed 14.5 billion (USDT). DAI also saw measurable growth and surpassed 10 billion (DAI) in total trading volume.
Top trading pairs were WETH with USDT, DAI, and USDC.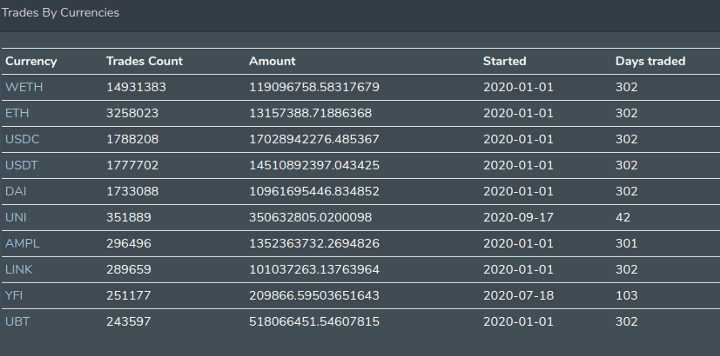 DEX Trades of Tokens
Our explorer also allows you to analyze DEX trades for any Ethereum token. For example, let's see DEX trades for LINK token.
LINK trades grew from ~8k trades in January to ~68K trades in August. A growing number of trades can help you identify the popularity of a token.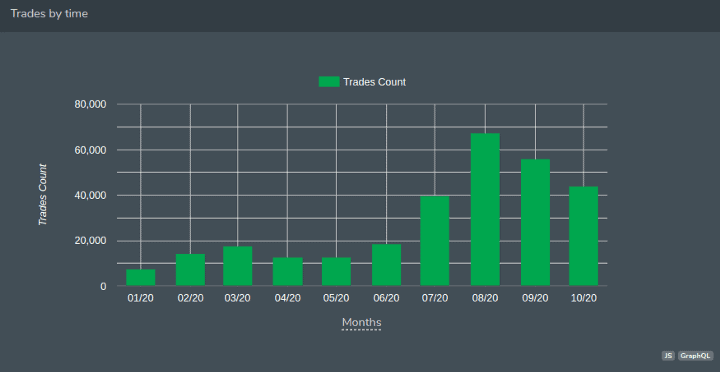 As you can see in the following image, more than 35 million LINK tokens were traded in September. However, October saw a significant decrease in the LINK trading volume.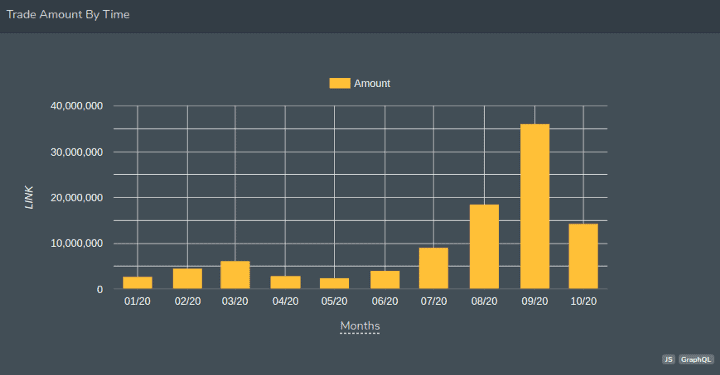 In August, the LINK token was traded against 95 currencies.
The number of trading pairs helps you identify if there are malicious activity to boost the trading volume. For example, a token holder can create two tokens and trade them against each other to increase the trading volume.
Using our APIs, you can also get top trading pairs for any token, which will help you understand the trading volume's legitimacy.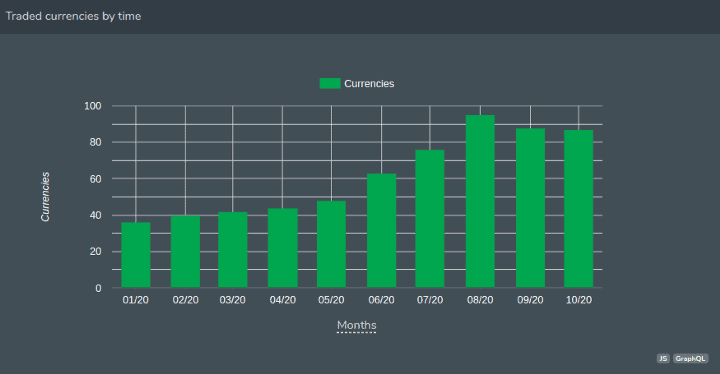 As shown below, you can also check the latest LINK token trades, and we also provide APIs to access this data.

Supported Protocols
Currently, we support around 17 protocols, and we are adding more protocols every day. Besides, we are also in the process of adding the DEX protocols of other blockchains, such as the Binance smart chain.
AXNET
AirSwap Exchange
Balancer Pool Token
Bancor Network
Curve
DDEX Hydro
DUBIex
ETHERCExchange
EtherDelta
Ethfinex (Deversifi)
IDEX
Kyber Network
Token.Store
Uniswap
Zerox Exchange
dYdX2
dex.blue
NOTE: All our Explorer data is available through GraphQL APIs. You can check these APIs on any data widget by clicking on the GraphQL button on the bottom right corner.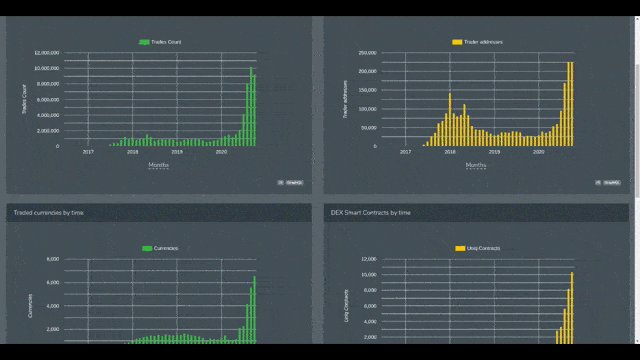 You might also be interested in:
About Bitquery
Bitquery is a set of software tools that parse, index, access, search, and use information across blockchain networks in a unified way. Our products are:
Coinpath® APIs provide blockchain money flow analysis for more than 24 blockchains. With Coinpath's APIs, you can monitor blockchain transactions, investigate crypto crimes such as bitcoin money laundering, and create crypto forensics tools. Read this to get started with Coinpath®.

Digital Assets API provides index information related to all major cryptocurrencies, coins, and tokens.

DEX API provides real-time deposits and transactions, trades, and other related data on different DEX protocols like Uniswap, Kyber Network, Airswap, Matching Network, etc.
If you have any questions about our products, ask them on our Telegram channel or email us at hello@bitquery.io. Also, subscribe to our newsletter below, we will keep you updated with the latest in the cryptocurrency world.
Subscribe to
our newsletter
Subscribe and never miss any updates related to our APIs, new developments & latest news etc. Our newsletter is sent once a week on Monday.