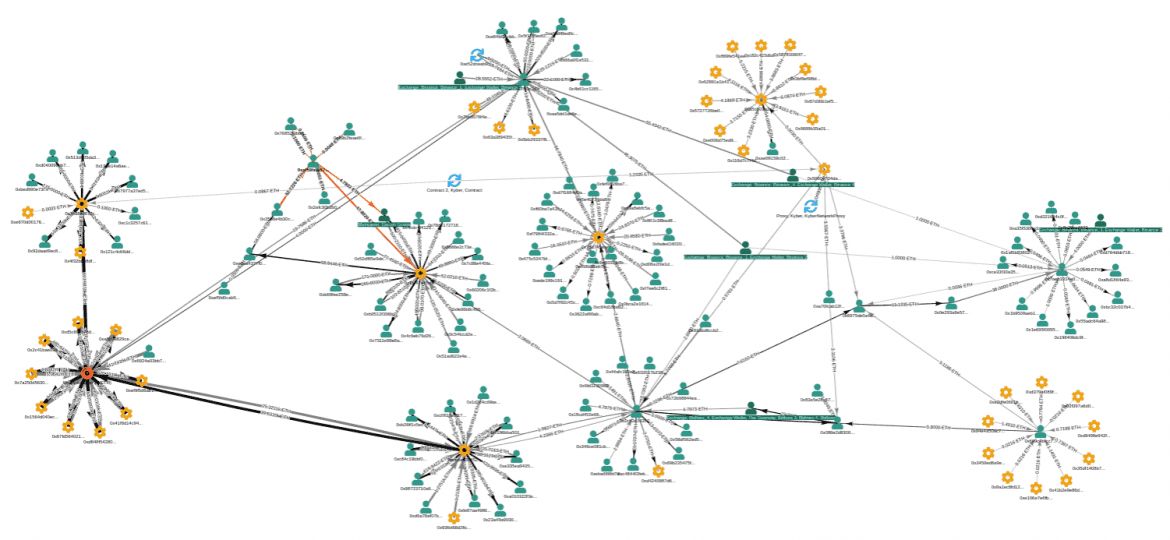 9 Best Blockchain Analysis Tools
When a former FBI special agent Ilhwan Yum described how he traced 3,760 bitcoin transactions over 12 months ending in August 2013 from Silk Road servers to Ross Ulbricht's laptop, it was almost a done deal for Silk Road creator "Dread Pirate Roberts" aka Ross Ulbricht.
To accomplish this, Yum followed more than 700,000 bitcoins on the blockchain, from the Silk Road marketplace to Ulbricht's personal wallets. It was the first time people realized the potential of blockchain analysis to solve a criminal investigation. Today, blockchain analysis technology is used by financial institutions, crypto businesses, and law enforcement authorities to prevent and investigate cryptocurrency crimes worldwide.
Financial Crime in a world of cryptocurrency
Cryptocurrencies are internet native currencies powered by blockchain technology. All the transactions are visible on the blockchain; however, blockchains do not contain real-world identities. Therefore associating these activities with real-world actors and stopping criminals is an ongoing challenge. Crypto trading bots and exchanges and other services are generating billions of crypto transactions every day, at the same time getting hacked now and then.
In the first five months of 2020, crypto thefts, hacks, and frauds totaled $1.36 billion. However, The deployment of sophisticated blockchain analysis solutions and KYC/AML regulations are showing results, and now criminals are vulnerable more than ever if they use crypto services directly. The global average of direct criminal funds received by cryptocurrency exchanges dropped 47% in 2019.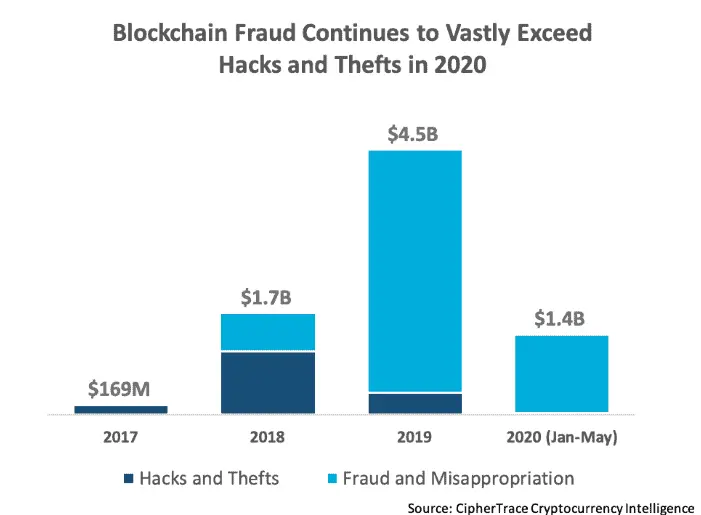 2020 spring report by CipherTrace
What is the blockchain analysis?
Blockchain analysis is a process of investigating, classifying, and monitoring blockchain addresses and transactions to understand the activities of various actors on the blockchain.
Crypto businesses must deploy blockchain analysis solutions to be regulatory compliant and prevent the exposure of illicit funds to their businesses.
Blockchain analysis tools in a nutshell
Blockchain analysis solutions provide a full suite of transaction monitoring, risk assessment, and investigations tools. The core idea is to associate blockchain addresses with real-world identities and provide tools to analyze the transaction activities. The following are the primary functions of a blockchain analysis tool.
Address Classification — One of the main applications of blockchain analysis software is to associate blockchain addresses with real-world identities. Without it, nothing will make sense; therefore, these tools apply multiple techniques to identify real-world entities on the blockchain.
Transaction monitoring and Risk analysis — Monitor every transaction related to your businesses and assess risk based on the fund's origin, money flow, and the history of sender or recipient wallets.
Investigation tools — provide visualization tools to investigate transactions and blockchain addresses manually.
Blockchain analysis Technology: Under the hood
As we mentioned above, the primary functions of blockchain analysis products, let's also look at how these products achieve this functionality with technology.
Classification and identification — Blockchain analysis tools use methods like clustering algorithms, web scraping, scam database monitoring, and dust attacks to understand the real-world identity of blockchain addresses. Clustering is the most common way using which analysis software identifies entities like exchanges, payment processors, wallets, etc.
Risk analysis is performed by creating risk models and train them using machine learning to provide a risk score to every blockchain transactions. Risk models are based on multiple parameters such as transaction amount, the origin of funds, and money flow history.
Investigation Tools are the graphic interface representing transaction graphs to understand the association among them.
Blockchain analysis use cases and benefits
The most important use case of blockchain analysis is in the regulatory space (RegTech). Crypto businesses and other financial institutions use blockchain analysis software to mitigate risk and become compliant.
Compliance
Blockchain analysis software helps in enforcing compliance by deploying risk mitigation and monitoring tools for virtual asset service providers. For example, a crypto exchange probably does not want a criminal to use its services to launder money or perform other illicit activities.
Therefore, blockchain analysis tools monitor every transaction related to your business and analyze risk associate with those transactions. You can also set various rules and standards to accomplish your regulatory obligations based on your jurisdiction.
Surveillance and Investigations
Blockchain analysis software plays a critical role in criminal investigations related to cryptocurrencies. It enables law authorities to trace the money and identify criminals. For example, a criminal uses a crypto service to convert funds into fiat. Blockchain analysis tools can identify the crypto services, and if that crypto service implemented a strict KYC solution, then we can identify the actual criminal.
Blockchain analysis companies also provide powerful visualization tools for manual investigations and deploy various clustering algorithms to identify crypto services.
Best blockchain analysis software and tools
Uppsala Security provides risk management solutions for cryptocurrency AML, Regulation Compliance, and cybersecurity. Established in January 2018, Uppsala Security built the first crowdsourced threat Intelligence platform known as the Sentinel Protocol. Uppsala products include
Crypto Analysis Risk Assessment (CARA) uses machine-learning technology to classify the risk level of crypto addresses based on learned behaviors of both known malicious wallets and normal wallets.
Crypto Analysis Transaction Visualization (CATV) is a crypto forensic tool that tracks both incoming and outgoing transactions of an inspected wallet. It provide a visual interface to analyze the flow of tokens and the types of wallets with which it interacts, helping find suspicious flow behavior.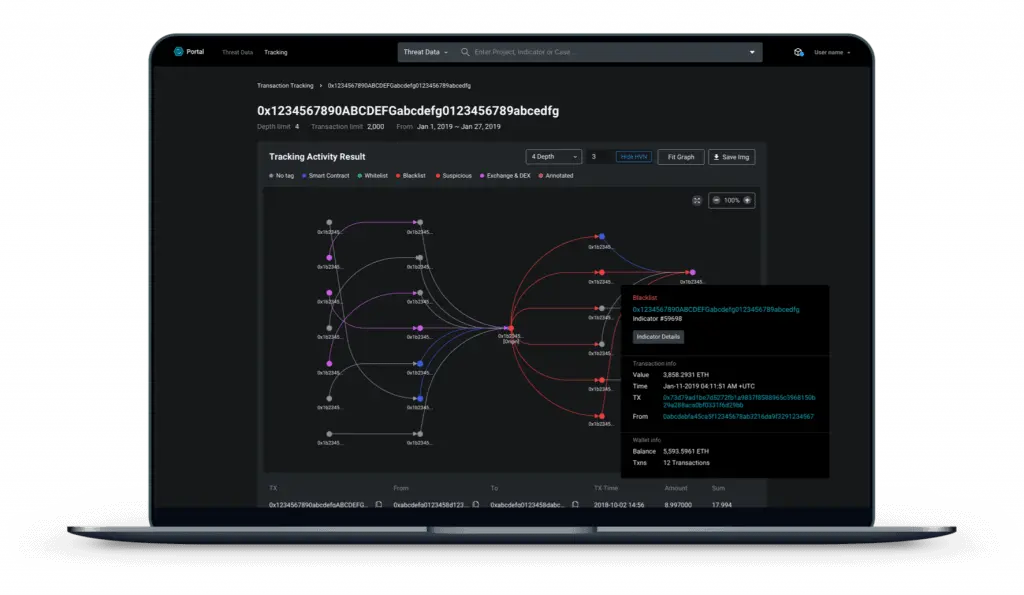 TRM helps financial institutions to fight crypto money laundering activities, prevent fraud, and stay in compliance. TRM Labs products include:
TRM Investigator is an easy-to-use interface for cryptocurrency investigation. You can visualize transactions and blockchain money flow with an automated path detection.
Transaction monitoring continually monitors blockchain wallets and prevent fraudulent activities. It also provides risk scores to transactions by monitoring irregular behavior and patterns.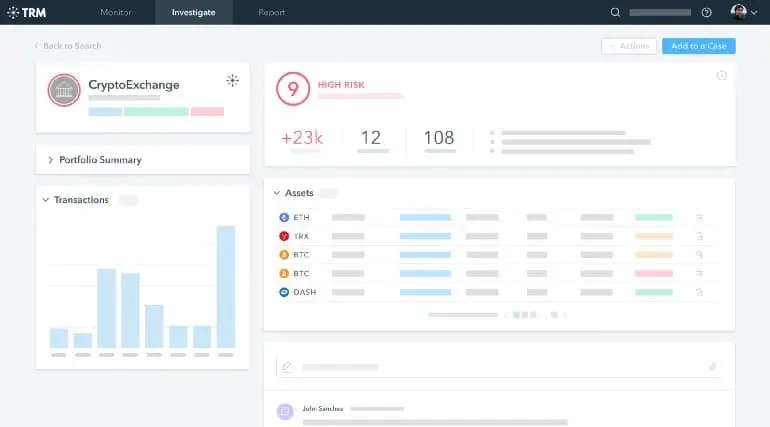 Coinpath is a Bitqurey product that provides blockchain money flow APIs. With Coinpath APIs, you can build transaction monitoring and visualization tools to investigate crypto crimes such as bitcoin money laundering.
Currently, we support more than 20 blockchains and thousands of Ethereum tokens. You can read more about Coinpath here.
Elliptic is used by major crypto exchange and financial institutions worldwide. It provides multiple solutions for cryptocurrency compliance and blockchain investigation. Some of the Elliptic products include:
Elliptic Lens gives you the insight you need to protect your business and your customers. Lens is used by fraud, compliance, and operations teams to provide exposure for crypto wallets, giving you insight into who is behind each address as well as the money flow in the wallet.
Elliptic Navigator's powerful tracing capabilities and configurable risk rules bring a consistent and accurate understanding of the source and destination of funds, for over 100 crypto assets.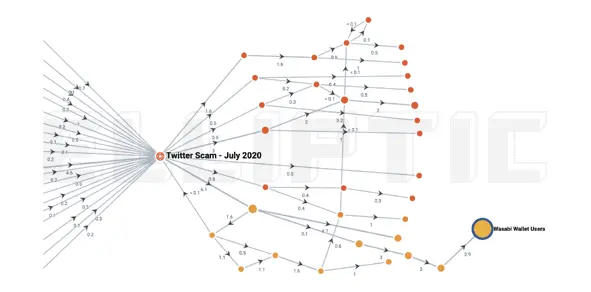 Chainalysis is one of the leading blockchain analysis companies which provides compliance and investigation software to banks, crypto businesses, and government agencies. It offers multiple tools for transaction monitoring, risk assessment, and visualization.
Chainalysis KYT (Know Your Transaction) detects risky cryptocurrency transactions from darknet markets, scams, sanctioned addresses. It provides an easy to use interface to analyze and investigate transactions.
Reactor helps you visualize blockchain money flow for any cryptocurrency address, such as Bitcoin or Ethereum. It also provides information on the real-world identity of blockchain addresses, which is critical for cryptocurrency investigations.
Chainalysis Kryptos provides complete profiles of more than 1800 cryptocurrency businesses based on KYC details. It is the industry's reference directory for cryptocurrency services and their on-chain activity.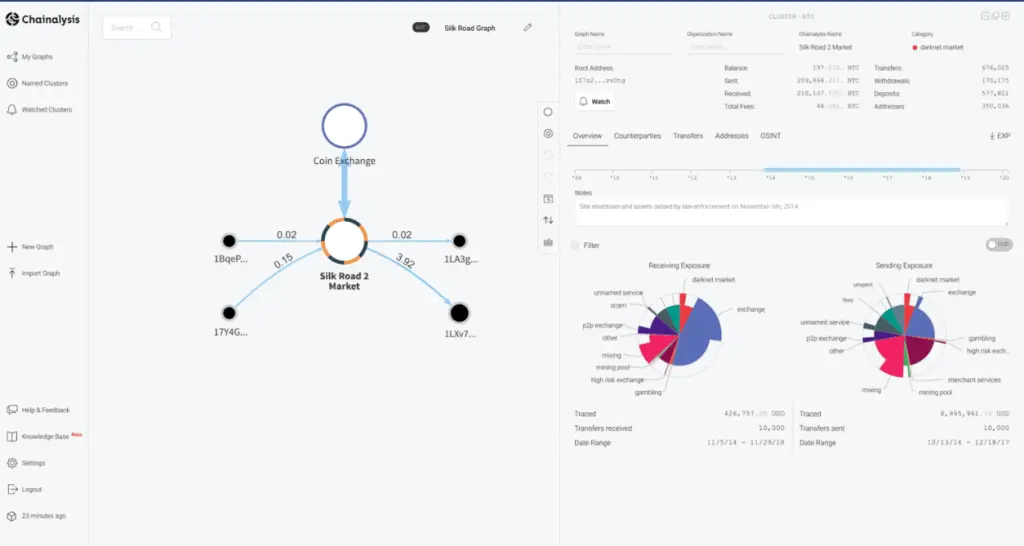 Founded in 2018, AnChain provides a suite of cryptocurrency compliance and investigation products powered by artificial intelligence. Some of the AnChain products include:
Blockchain Ecosystem Intelligence API (BEI API) provide real-world identity information for blockchain addresses and risk analysis for crypto transactions.
Compliance. Investigation. Security Operation (CISO) is a visualization product to analyze blockchain transactions manually and addresses with their real-world identity attached.
Smart Contract Auditing Sandbox (CAS) is a sandbox, which analyzes the source code of millions of Ethereum smart contracts to provide the security score of any Solidity-based smart contract.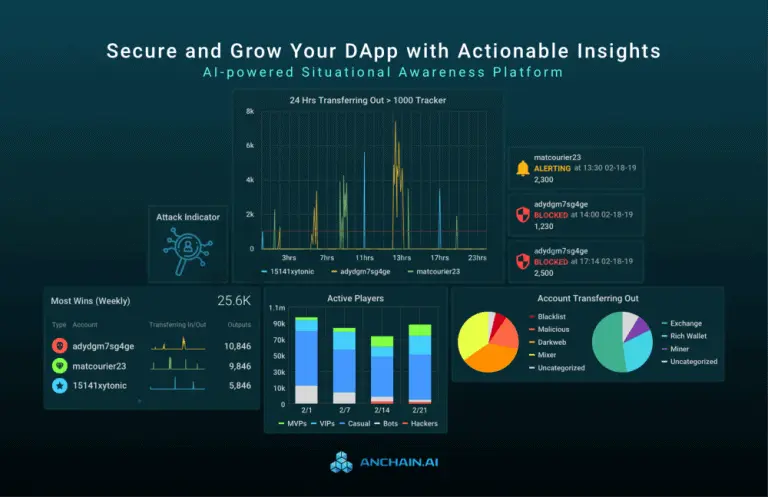 CipherTrace provides a full suite of VASP (Virtual asset service provider) risk monitoring and compliance solutions. It supports more than 800 tokens and detects crypto money laundering activities, enables law enforcement investigations, and regulatory supervision to help become your business crypto compliant. ChiperTrace products include:
Armada flags high-risk payments between banks and VASPs and reveals risk associated with hundreds of VASPs and other virtual asset entities using deep intelligence into their Know Your Customer (KYC) and AML practices.
Sentry helps investigate cryptocurrency money laundering activities by integrating with both open and closed-source intelligence, and leverages proprietary clustering algorithms to aggregate and correlate a variety of indicators rapidly, and then provides users with actionable attribution.
Inspector is a search and visualization tool for investigating cryptocurrency transactions.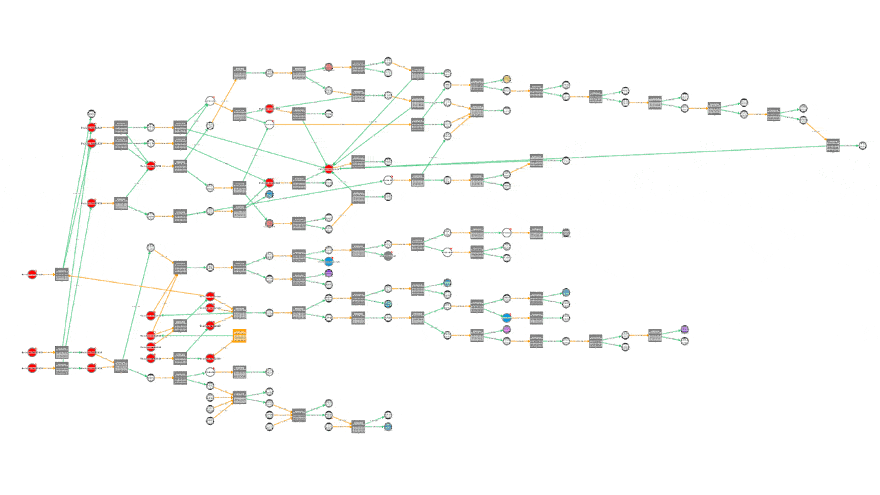 Crystal Blockchain is a Bitfury product that provides blockchain money flow APIs and other web-based tools to various exchanges and banks. It offers three different licenses for its products based on use cases.
Crystal Expert is a cloud-based bitcoin investigation tool build for small crypto businesses.
Crystal APIs provide fully automated transaction monitoring and build for financial organizations with a high volume of transactions, such as exchanges, payment processors, trading services.
Crystal Pro provides the option for dedicated hosting for banks and other large financial institutions to enhance data protection capabilities.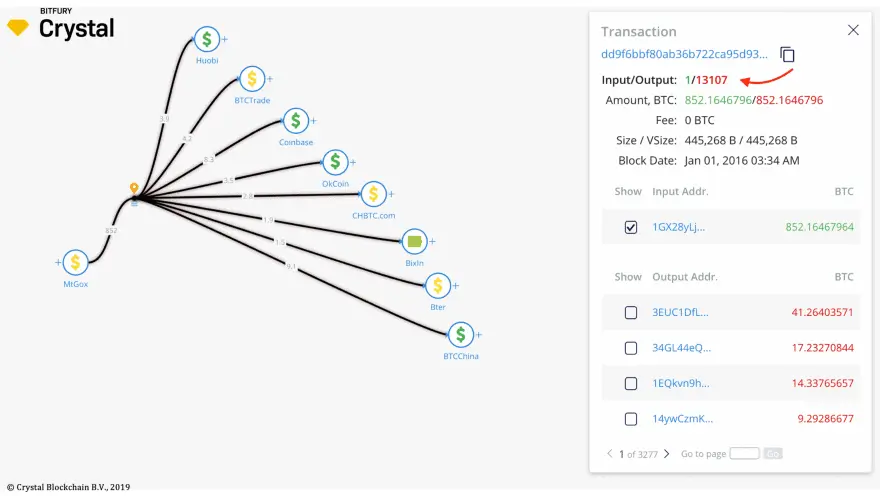 Coinfirm is created in 2016, by the ex-AML leadership of the Royal Bank of Scotland. It provides multiple AML and compliance solutions. Besides, it also solutions to quickly transfer, register, and report all Travel Rule data, listed in FATF's guidelines. Coinfirm products include:
Coinfirm's AML platform helps crypto businesses monitor addresses and transactions in real-time.
Travel rule solution by Coinfirm provides VASP identification, risk analysis, case management to help your business to be compliant with FATF recommendations.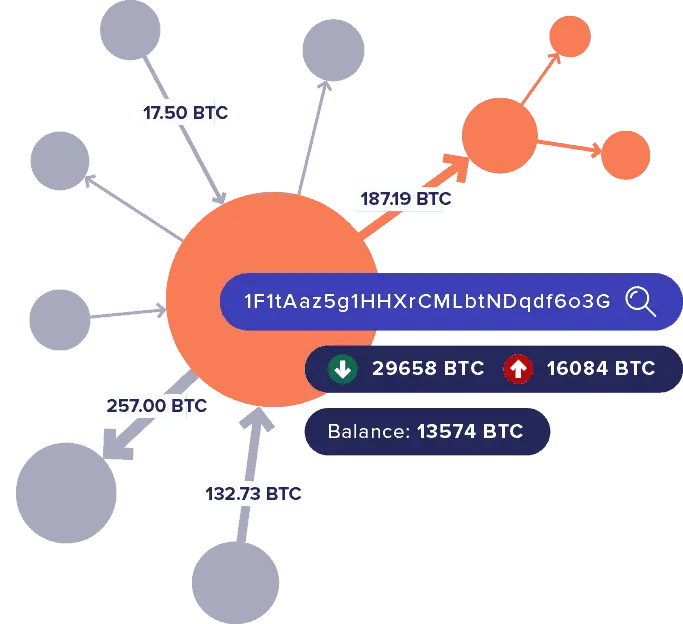 Solidus Labs is automated market surveillance and risk monitoring hub tailored for digital assets. It manages all compliance in one place and minimizes risk and costs. Solidus products include.
Market surveillance and transaction monitoring solutionshelp in identifying wash-trading and spoofing to crypto-specific threats like cross-market manipulation.
Unified risk and case management help you to avoid threats, operational headaches, and manage your compliance in unified, intuitive, and collaborative interface tailored for digital assets.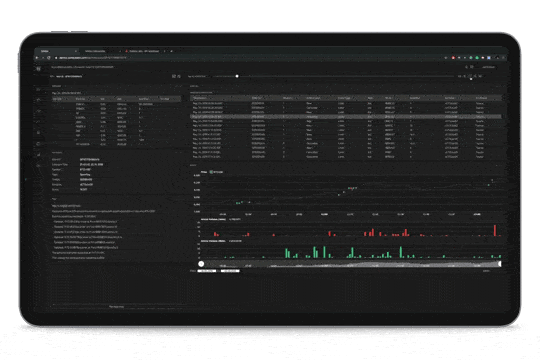 Wrapping up
Unlike traditional finance, blockchain technology enables permissionless innovation. The availability of open data allows makers to build advanced tracking software.
Today, blockchain companies are protecting thousands of businesses worldwide and helping law enforcement agencies to prevent cryptocurrency crimes.
However, there is always a concern about user privacy with blockchain analysis technologies. But, it is the only way to identify cryptocurrency-related criminal activities. Without them, both law enforcement agencies and crypto businesses are almost blind. Therefore, we believe blockchain analysis software are vital for mass crypto adoption and sustainability.
Also Read
Subscribe to
our newsletter
Subscribe and never miss any updates related to our APIs, new developments & latest news etc. Our newsletter is sent once a week on Monday.