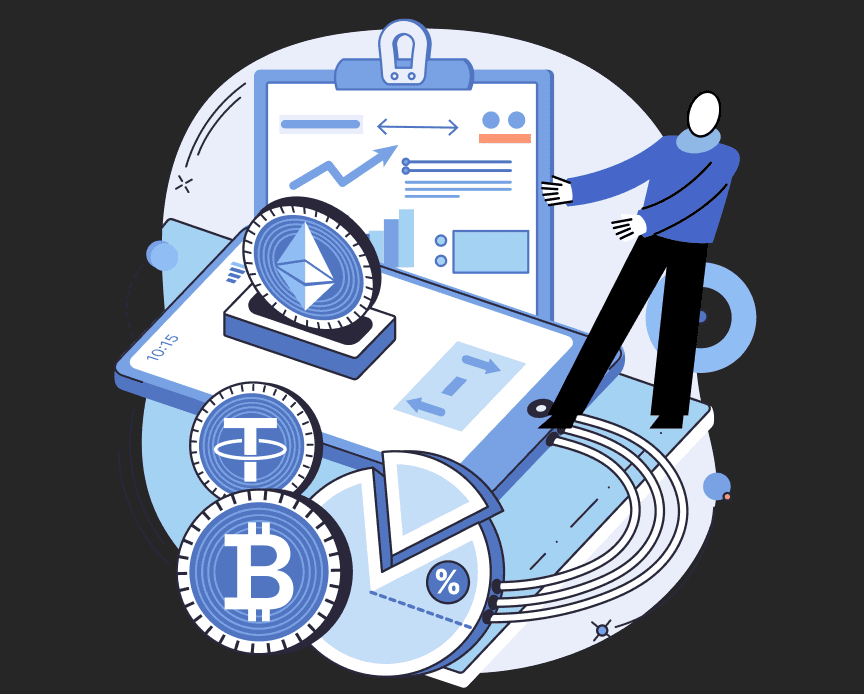 Comparing DEXs — Ethereum and Binance Smart Chain

DEXs made a lot of noise in 2020; the trade volume of Ethereum DEXs grew from $270 million in January to $21 billion in December. Most of this growth was driven by Uniswap, which had more than $56 billion in trade volume (cumulative) in 2020.
Meanwhile, Binance also launched its Smart chain mainnet in September 2020, and we saw many DEXs getting deployed on it from the start.
In this article, we will compare DEXs on Etheruem and Binance Smart Chain based on multiple metrics.
Different DEX Protocols on Ethereum and Binance Smart Chain (BSC)
We recognized 31 DEX protocols on Ethereum and four on Binance smart chain(BSC). On Ethereum, Uniswap(V1 and v2 and their clones and similar) protocols have more than 65% of the DEX market share. However, on BSC, Uniswap(V1 and v2 and their clones and similar) protocols executing 99.99% of the trades. This shows that Ethereum is the main innovation ground, and successful innovations will be replicated on other chains to enjoy the chain specific benefits.
Let's dig deeper and check out the trade stats.
DEX Trade Stats
Ethereum saw more than $132 billion in DEX trade volume since its inception. In which more than 95% came alone in 2020. More than 1.34 million users spent ~$207 million in the transaction fee (Not including trading fee) to execute 46 million trades on Ethereum.
The following chart shows the last ten months of DEX trades stats on the Ethereum blockchain.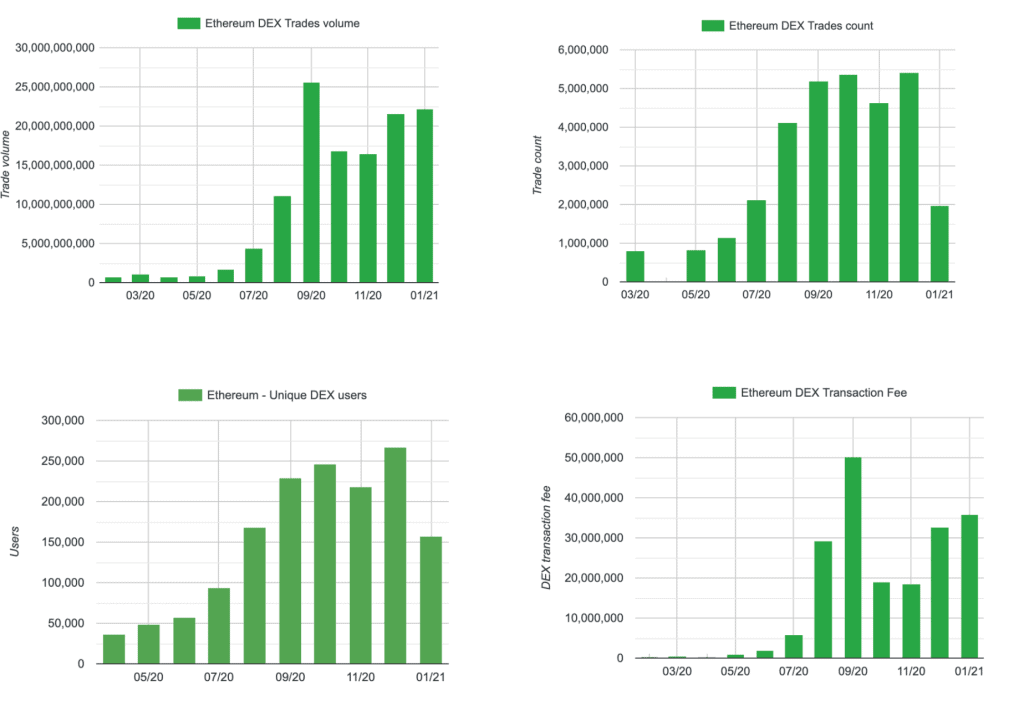 On the other hand, Binance Smart Chain showed a very promising start. 
More than 121 thousand users executed ~5 million trades on BSC in the last five months, resulting in more than $2.18 billion in trading volume.
However, the main contrast is the transaction fee. On BSC, users executed 5 million trades and spent only $456K in transaction fees (Not trading fee). Where on Ethereum, users spend more than $207 million in transaction fees(Not trading fee) for 46 million trades.
Currencies on DEXs
In the last three years, Ethereum DEXs saw more than 29,700 different currencies. Where in the last five months, 729 currencies were traded on the BSC DEXs.
However, the Wrapped tokens are the most-traded currencies on the DEXs. For Ethereum, it's WETH, and for Binance Smart Chain, it's WBNB.
Traders executed more than 27 million WETH trades resulting in $92 billion in the trade volume. On the other hand, on BSC, 86% of trades (~4.3 million ) included WBNB, resulting in $2 billion in trading volume.

Conclusion
Overall, DEX space saw massive growth in 2020. However, most of this growth is driven by the Uniswap protocol, which gets forked, tweaked, and deployed on Ethereum and Binance smart chain to attract traders. This shows innovation in the DEXs space is challenging; however, it goes a long way.
We think aggregators like Matcha, 1inch.exchange, which hides all the complexity, will be the gamechanger in coming years and utilize multiple chains to optimize the trading and transaction fee and profits.
Keep an eye on the DEX space; it's evolving pretty fast.
If you are thinking of building DEX related tools, try our unified GraphQL DEX APIs, which supports almost all the DEXs on Ethereum and Binance smart chain.
If you have any questions, please join our Telegram channel.
Also Read:
About Bitquery
Bitquery is a set of software tools that parse, index, access, search, and use information across blockchain networks in a unified way. Our products are:
Coinpath® APIs provide blockchain money flow analysis for more than 24 blockchains. With Coinpath's APIs, you can monitor blockchain transactions, investigate crypto crimes such as bitcoin money laundering, and create crypto forensics tools. Read this to get started with Coinpath®.

Digital Assets API provides index information related to all major cryptocurrencies, coins, and tokens.

DEX API provides real-time deposits and transactions, trades, and other related data on different DEX protocols like Uniswap, Kyber Network, Airswap, Matching Network, etc.
If you have any questions about our products, ask them on our Telegram channel or email us at hello@bitquery.io. Also, subscribe to our newsletter below, we will keep you updated with the latest in the cryptocurrency world.
Subscribe to
our newsletter
Subscribe and never miss any updates related to our APIs, new developments & latest news etc. Our newsletter is sent once a week on Monday.