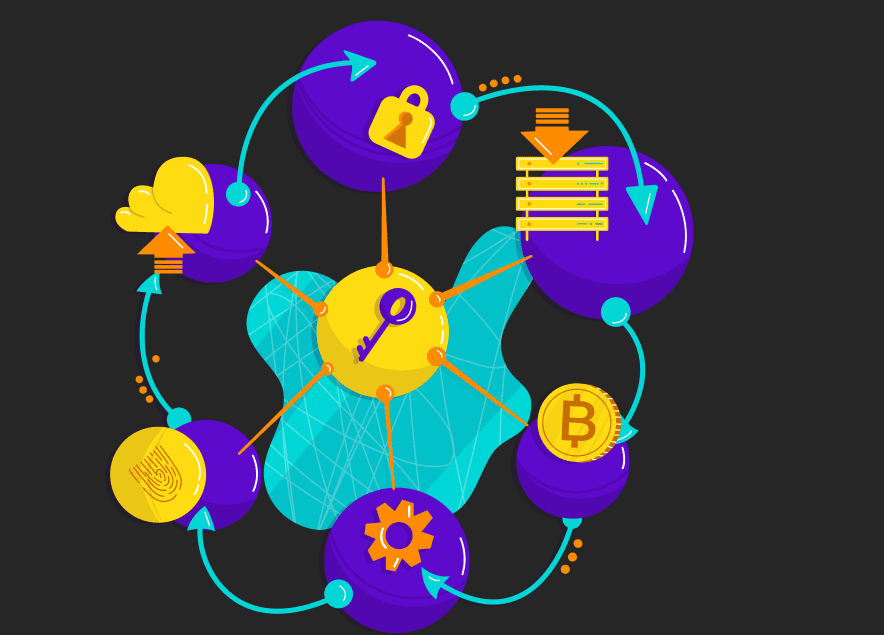 Conflux blockchain –  Growth Stats
It's been almost three months since the launch of Conflux's mainnet, Tethys. And, we wanted to know how the network performed in its first quarter. Therefore, in this article, we will check different on-chain metrics to understand the Conflux network's status.
Blocks and Transactions
In its first two months of launch, Conflux saw more than 1 million transactions/month. The blockchain produced ~15 million blocks, in which more than 99% of blocks contained less than ten transactions.
There were 10 million blocks with 0 transactions, and the largest block had 1,006 transactions. When writing this article, users executed more than 3.1 million transactions on the Conflux network.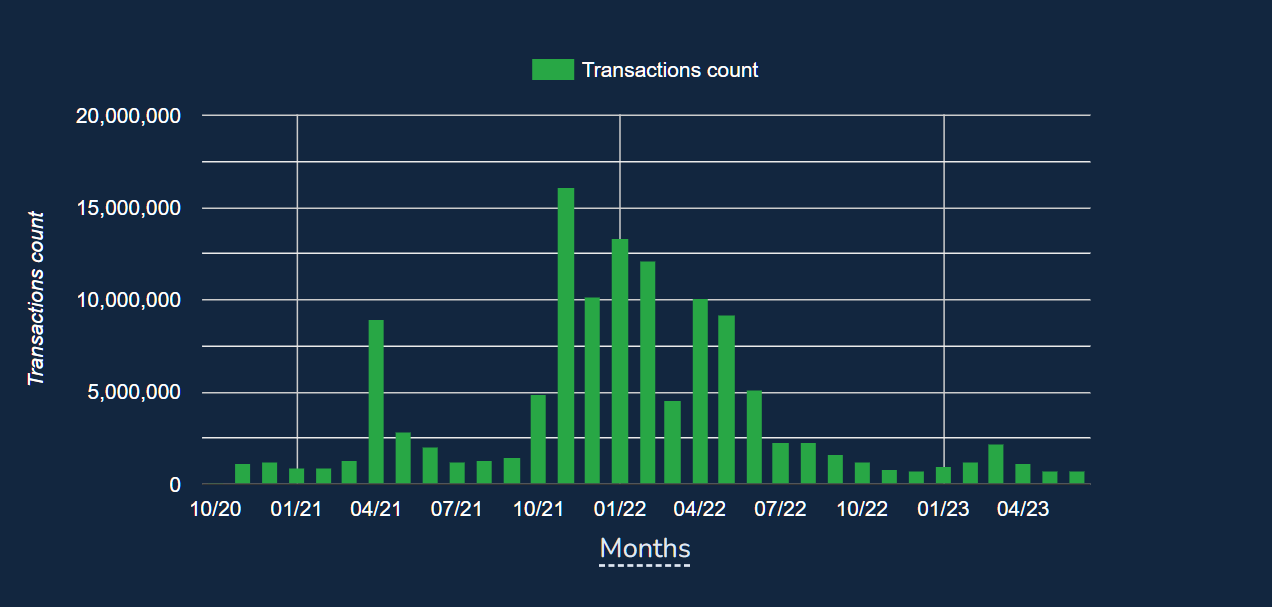 Transactions By Date
The transaction volume also rose during the period, and in Jan 2021, it is crossing $40 million.
Gas spent
In terms of Gas spend, the Conflux network spent only $11 in the total gas fee, which is very low compared to any other smart contract blockchain.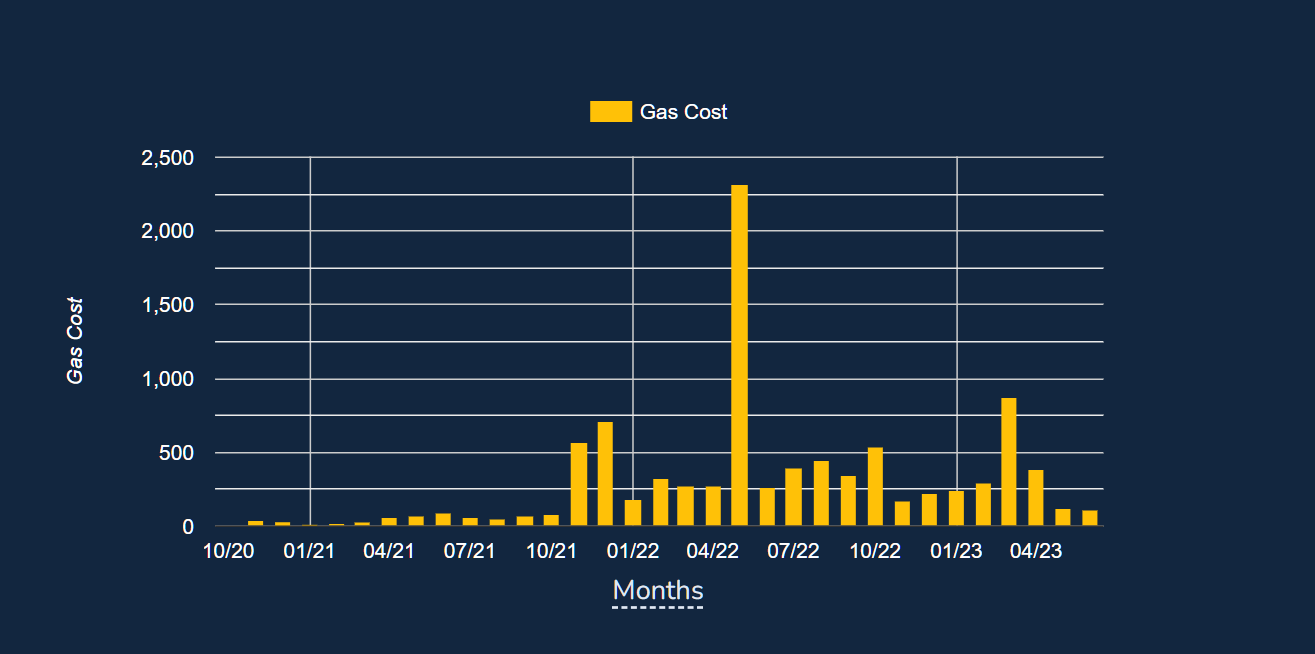 Gas Spent By Date
Apply сhanges Close GraphiQL on GitHub
Smart Contract Calls
Smart contract calls are a good indicator that shows the usage of a smart contract blockchain. In the first three months, Conflux crossed 1.9 million smart contract calls.
A total of 77,798 users called 326 unique smart contract methods on 446 unique contracts deployed on Conflux at the time of writing this article.
Just to put things in context, Ethereum currently executes 100 million smart contract calls per month and has more than 37 million unique smart contracts deployed.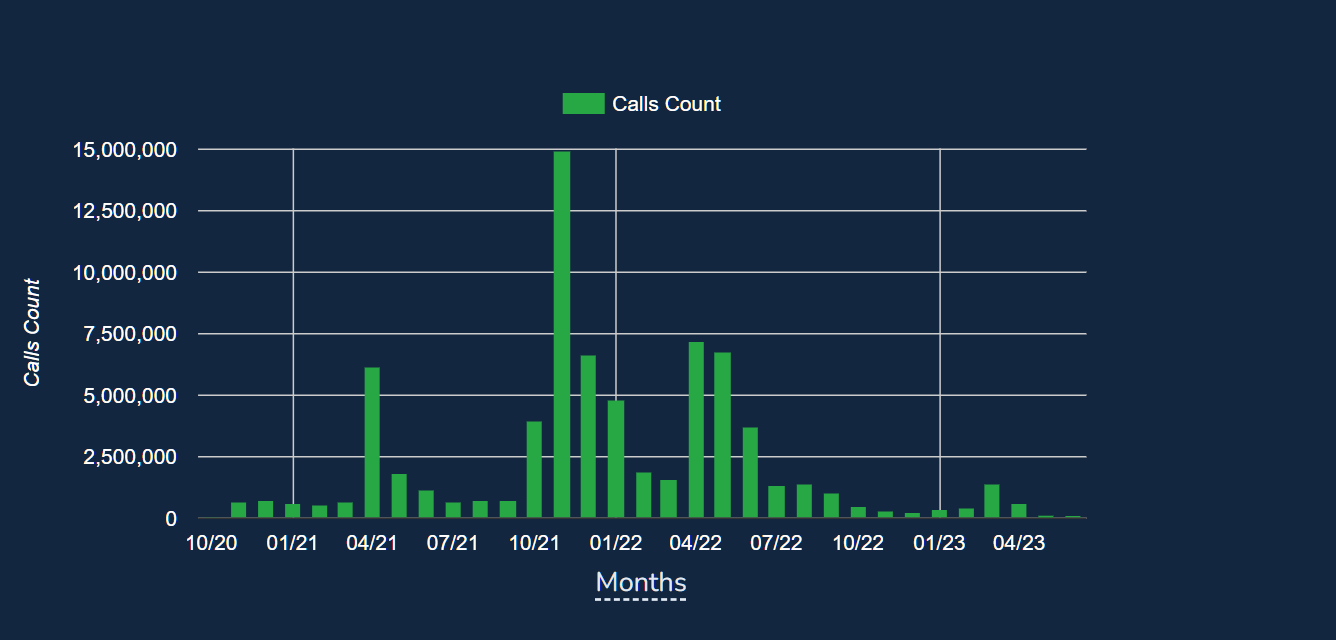 Smart contract calls(including internal) by date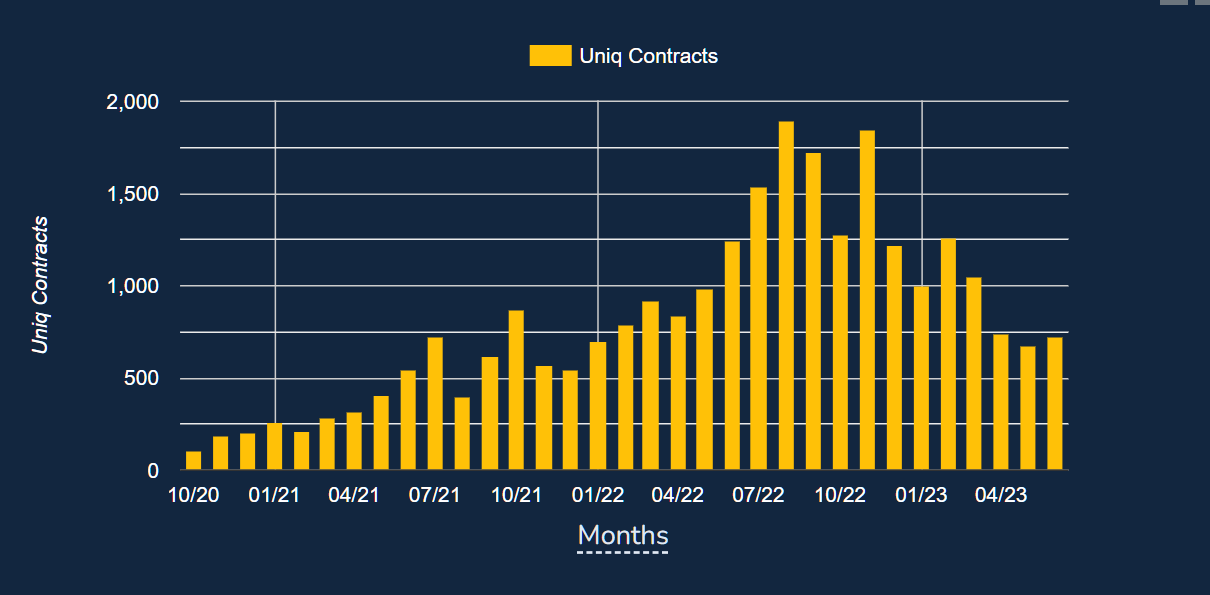 Most active smart contract
0x818f0da6ba72feababdabc33cc36300b61167fae is the most used smart contract with more than 424,443 smart contract calls. However, this contract only spent ~ $0.0000000178 in Gas.
Top gas spender
cUSDT token smart contract is the top gas spender on the Conflux blockchain, which spent $0.16 for executing 210,421 transfers with an average of 208 cUSDT / transfer.
Total currencies
Conflux has a total of 127 different currencies deployed on it. In the last three months, the network saw more than 5 million transfers and 154,000 unique senders, and 116,000 receivers.
The Conflux token (CFX), the native token of the Conflux blockchain, had ~147,000 users, executing 1.25 million transfers, totaling a $99 million transfer volume. However, in terms of transfers, CRCL_USDT_symbol is on the top with more than 1.3 million transfers.
Latest Transfers
Block Producers
We also looked into the Conflux block producers numbers. In the first month, the network saw more than 25,000 unique block producers. However, since then, numbers are stabilizing, and around 10,000 miners participated in the network in January.
Active Miners By Time
Wrapped CFX (WCFX)
Conflux already has its first decentralized exchange, Moondex and several other DeFi projects are building on Conflux. That's why the Wrapped CFX token saw 136 million in transfer volume in the last three months.
Note: You can learn about any Conflux token's stats on our Bitquery explorer. Just search your token address.
Money Flow
We have added a new money flow graph, "Sankey" to help the community understand the source and destination of funds. This is powered by our Coinpath APIs, which we recently enabled for all tokens built atop Conflux blockchain.
Wrapping Up
Using our GrpahQL APIs you can query Conflux blockchain. Besides, we have several new APIs in the pipeline to help the Conflux community provide a more detailed analysis of the Conflux blockchain, Dapp, Tokens, etc.
You can access our Conflux explorer here and GraphQL APIs here.
If you are here, please fill this form, which will help us understand how you are using the Conflux network and what type of data you are looking for Conflux blockchain.
If you have any questions please ask them on our Telegram channel.
Also Read:
About Bitquery
Bitquery is a set of software tools that parse, index, access, search, and use information across blockchain networks in a unified way. Our products are:
Coinpath® APIs provide blockchain money flow analysis for more than 24 blockchains. With Coinpath's APIs, you can monitor blockchain transactions, investigate crypto crimes such as bitcoin money laundering, and create crypto forensics tools. Read this to get started with Coinpath®.

Digital Assets API provides index information related to all major cryptocurrencies, coins, and tokens.

DEX API provides real-time deposits and transactions, trades, and other related data on different DEX protocols like Uniswap, Kyber Network, Airswap, Matching Network, etc.
If you have any questions about our products, ask them on our Telegram channel or email us at hello@bitquery.io. Also, subscribe to our newsletter below, we will keep you updated with the latest in the cryptocurrency world.
Subscribe to
our newsletter
Subscribe and never miss any updates related to our APIs, new developments & latest news etc. Our newsletter is sent once a week on Monday.